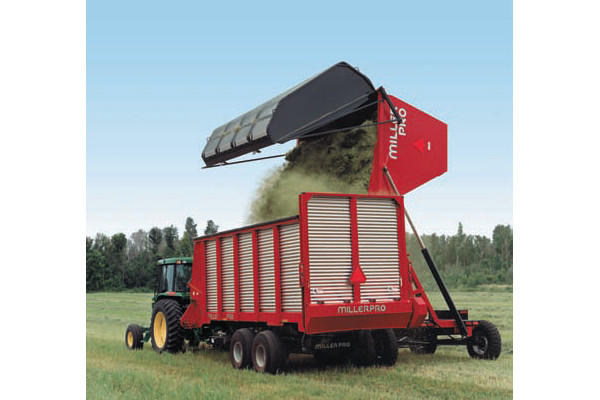 Features
Numerous model choices…
You'll find several models to choose from, to add convenience to your work. The entire line is available either with roofs or as open top models. Truck mount and trailer models add more options to fill every need.
Higher capacity
The entire line is available in box lengths up to 24 feet. Optional 4-inch roof or side extensions add even more capacity. Heavyweight constructed running gear is available in either single or tandem axle wagons or tandem axle trailers.
Receiver boxes
Receiver boxes are ideal for top filling because there are no obstructions such as rafters or supports in the center of the box. The sides are reinforced with a heavy "Z" shaped side sill plus a massive structural beam going full length on the top edge of both sides. There's also a cross support at the front and rear of the box. The side stakes are the largest in the industry measuring an impressive 5 x 2-1/2 inches in size.
Side extensions and 4th beater
Receiver boxes can be fitted with side extensions to increase load capacity. With the side extensions it is recommended that an optional fourth beater be added to ensure a smooth flow of material to the blower.
Trailer Mounted Receiver Boxes
Receiver boxes mounted on tandem axle trailers are ideal for filling bags, upright silos and bunker silos. These boxes are also perfect for harvesting hemp. This design offers a smooth ride with good trailing and maneuverability, often able to travel one or two gears faster in field conditions compared with a conventional steerable wagon.
Flexible engineering design
Field Flex™ design provides integral strength, with dynamic tolerance to flex as terrain and load varies. Steel unibody design provides an excellent strength-to-weight ratio and a lower center of gravity. Proven in the roughest, wettest conditions Art's Way wagons withstand stresses caused by changing loads and field conditions.
Unitized under-construction
Unitized under-construction is the structural foundation of the 5300 forage box. Four side and center stringers run full length of the wagon and combine with other formed high strength steel frame members to make a durable integrated assembly. This design distributes loads evenly over the box's full length, and provides a balance of rigidity and flexibility that assures long life under tough field conditions.
Unitized steel box
Exclusive design incorporates the latest in engineering and manufacturing methods to break the technology barrier and to revolutionize forage box design.
Full length side sheets
Made of tough corrugated 20 gauge aluminized steel, the side sheets contribute to the integral strength of the box assembly.
Full Length steel stringers
The steel stringers are formed from EX-TEN® heavy duty alloy which is 67% stronger than conventional steel.
Massive steel uprights
Multiple 90° bends create 4-sided uprights with twice the strength of others, and present a smoother, cleaner appearance.
Mounting saddles
Strategically placed mounting saddles attach the forage box to the running gear or truck frame. The rear saddle can be moved to insure correct weight distribution for single or tandem axle. Reinforced rubber pads are positioned between bottom of saddle and wagon or trailer frame.
Clutter free design
The clutter free design removes bulky wood and steel structures for a clean and open appearance. and a lower center of gravity. A solid foundation to carry the load.
One piece sill
A one piece sill runs full length to support the roof, adding to the integrity of the unitized box design.
4-speed shift-under-load synchronized gear transmission
4-speed gear provides a simple and positive gear-to-gear drive for smooth unloading under all crop conditions. A massive bronze worm gear and rugged gear train operate inside a sealed oil bath. The beefy design of the wagon includes heavy drive collar, large output shaft and heavy detent springs. Being able to maintain a consistent speed is a major advantage of our 4-speed positive gear transmission. Control of the wagon is smooth and predictable. Cleanout is faster with unload speeds up to 12.1 ft/min. Variable speed drives on other boxes cause the apron speed to fluctuate as a result of the ever-changing load.
Crop Clear™ rafterless roof
The rafterless roof allows unobstructed rafter-free crop loading and unloading. Corrugated and formed heavy gauge aluminized steel has superior strength, appearance and corrosion resistance for longer wagon life. Boxes are made with a heavy duty roof edge protector. The roof is removable in sections for loading combined corn.
18 inch metering augers provide uniform feed flow
18 inch metering augers provide the most uniform feed flow in the industry. It's large diameter prevents undercutting. Welded chipper tines start easily in tightly packed loads. Top auger setback practically eliminates carryover and enhances unloading performance by creating a smooth flowing waterfall of crop.
Independent drives for auger and outfeed — unequalled crop unloading control
The front drive chain is spring loaded to ensure the proper tension and eliminates chain whip. Exclusive feathering clutch system coupled with a shift-under-load 4-speed gear box lets the operator start extra full loads smoothly, and provide positive, direct unloading speeds.
Outfeed feathering clutch
Outfeed feather clutch allows the operator to feather the outfeed apron to help start heavy loads slowly, without producing clumps that can block your forage blower. This clutch is also the quick-release safety clutch. The PTO turns freely for easy hookup.
Metering auger feathering clutch
The metereing auger feathering clutch allows the operator to feather the augers to clean them, without bringing the load forward. Single handle allows operator to stop and/or feather the augers to ease a big clump into the outfeed. No other forage box has this user-friendly system—some have no beater clutch at all.
Centralized operator controls
 The operator has easy access to unloading controls from either side and low sight holes provide good visibility. Neutral gear has been placed between all speeds and safety clutches are easy to reset.
Choose PTO or hydraulic drive
PTO drive unloads in as little as 30 seconds. Hydraulic drive unloading time varies with tractor hydraulics.
PTO drive lines can remain attached to the tractor. You can start the PTO before leaving the tractor saving two trips in and out of the cab — not having to attach and detach the PTO drive line at the blower or bagger. For bunker use, you won't need to leave the tractor at all.
Slick box floor
Box floors are made of 5/8 inch thick pressure treated marine grade plywood. Front/rear unload boxes have super slippery poly clad floor to reduce friction and stress in either direction.
Front/rear unload • 2 direction drive
Unloading direction is easy to change and requires no tools. Simply move a drive coupler from the front shaft to the rear shaft, or vice versa. No need for time-consuming changing of drive chains.
Auto rear door for unobstructed unloading
Automatic rear door opens automatically when unloading apron is engaged and closes and relocks when box is empty without having operator leave the tractor. Unobstructed unloading rear door hinge point is as high as the roof so tops of loads aren't shaved off.
Cross conveyor chain restraints
Cross conveyor chain restraints reduce potential residue buildup over full length of cross conveyor.
Drive line safety shields swing open
Shielding on gearbox and belt drive systems is smaller, more secure and provides easier access. Front hinge prevents panels from catching the wind during transport if accidentally left unlatched.
Specifications
Farm & Ranch Supplies
Our hardware department offers a wide selection of STIHL Power Equipment, fencing, irrigation supplies, and quality power and hand tools. We also have a full-service tack shop and western clothing department. So as you can see we are your one-stop-shop for all of your farming, ranching, and residential needs. Plus, we service all of the equipment we sell in our small engine repair shop. Our mechanics hold several certifications including STIHL silver or gold, Honda, Kohler, Briggs and ExMark. 
Want pricing on a specific piece of equipment?
Fill out the form below to request a custom quote!