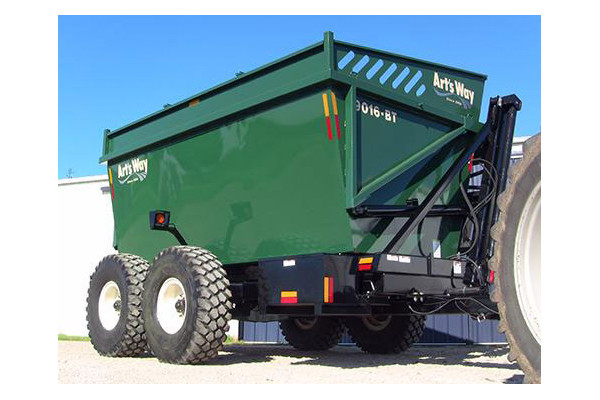 Features
Reaching higher levels of productivity
Big acreage operators are continually discovering new ways to cope with short harvest windows. With Miller Pro Dump Boxes, you can experience virtually nonstop, high volume harvesting. Because of their capacity, high lift and short cycle time, they'll help you bring in higher quality forage faster. You will also save money by not having extra transport vehicles with drivers waiting in the field.
Higher lift and better reach
Reach over and into receiver boxes and trucks with dump heights at pivot from 11 ft. 9 inches for the 9015 model. An optional riser kit increases the pivot point 6 inches for the 9015. As the boxes begin their lift, they also side shift to move closer to the receiving vehicle.
4 wheel wagon models
Hayfields can be anything but perfectly flat. Stability is critical to favorable dump box operation. Miller Pro Dump Boxes have massive undercarriages, a wide stance and counterweight box. They flex when needed, and become rigid during the dumping cycle. They have automotive design steering and a tight turning radius to follow big self-propelled choppers.
Ball joint steering and short turning radius
Automotive ball joint steering along with C-channel reach provide improved towing and long-lasting wear ability.
Tight 57 inch turning radius easily follows severe chopper turns
Massive spindles with 8 bolt hubs easily handle heavy loads and rough terrain
Heavy duty tire options
Telescoping pole with easy-lift spring
Red and amber transport lights plus SMV sign and reflective decals are standard
Wide stance stability
Tread width up to 10 ft.
Counter weight for maximum stability.
2 wheel cart models
The 9015 and 9016 Dump Boxes are available with 2 wheel cart chassis. Ideal for wet fields. Rugged understructure rolls through tough conditions.
Reversible hitch for left or right side dump
Axles adjust fore and aft for best weight distribution
Massive 4 1/2 inch bolt-in cold rolled spindles with heavy duty 10 bolt hubs with studs and nuts
Model 9015 uses 18 in. wide x 38 in. diameter rims for use with 20.8 x 38 in. 14 ply bias tires
Swivel hitch clevis adjustable up and down
9015 high strength hitch tube incorporates a 7000 lb. "crank style" jack
Weigh scale system is optional
Rugged all-steel construction
Smooth steel box sides reinforced with internal bracing
High-strength heavy duty construction throughout
Large capacity hydraulics with 5 inch master and 4 inch slave cylinders (9016 has 4 inch tilt cylinders)
Massive greaseable hinges (box to elevator) for added strength Heavy duty running gear designed for high load capacity
Impressive Capacities
Model 9015 comes with a 15 ft. box length with a capacity of 950 cu. ft. with roof. Lift and dump up to 24,000 lbs.
Slaved cylinder elevator raises loads evenly…requiring less oil.
Forage choppers naturally load dump boxes heavier to the rear. Miller Pro Dump Boxes feature master and slave cylinders to raise their loads uniformly without need for straightening cables and pulleys. With this system, the large 5 inch master and 4 inch slave cylinders require less oil. Hydraulic valve mechanically locks oil in stabilizer cylinder(s) when dump box is elevated (4 wheel only).
Advanced elevator lockout system
On models with rocking bolsters, as the box begins to lift, stabilizer cylinder(s) lock out the rocking bolster to prevent its movement. On the 9015, as the box begins its dump rotation, spring loaded latches lock the slide tubes. The design incorporates a backup secondary lock. Spring loaded latches include primary and secondary backup lock as the box rotates for dump.
Faster cycle time lets choppers spend more time chopping
Because this highly efficient elevator lift design requires less oil, it creates a faster time cycle of just 1 to 1 1/2 minutes (depending on harvesting unit hydraulics).
Easier dumping
Extended pouring lip, a 46-47 inch dumping angle and smooth steel sides helps material slide out of the box and into the center of the receiver. Left side dumping is standard. Right hand dumping is optional on most models.
Automatic opening roof
The opens and closes automatically when the box tilts. The steel mesh roof panels let air out, and light in to see load level. Fill opening is wide and high.
Specifications
Farm & Ranch Supplies
Our hardware department offers a wide selection of STIHL Power Equipment, fencing, irrigation supplies, and quality power and hand tools. We also have a full-service tack shop and western clothing department. So as you can see we are your one-stop-shop for all of your farming, ranching, and residential needs. Plus, we service all of the equipment we sell in our small engine repair shop. Our mechanics hold several certifications including STIHL silver or gold, Honda, Kohler, Briggs and ExMark. 
Want pricing on a specific piece of equipment?
Fill out the form below to request a custom quote!