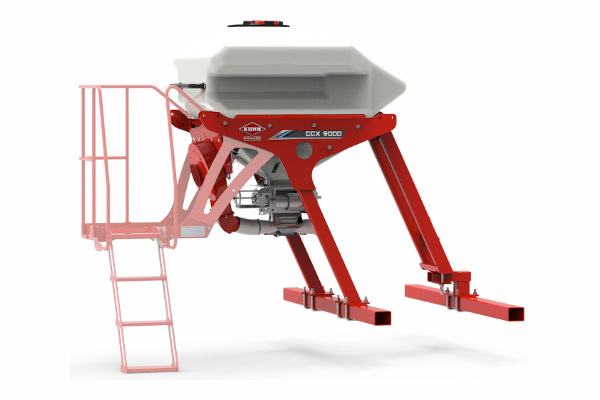 Features
QUANTRON
Quantron – Control from the Cab of your Tractor
Quantron S-2
The Quantron S-2 terminal, with 5 ½" color touchscreen, allows the operator to control and monitor all aspects of the CCX 9000 from the tractor cab. Metric units can be selected if preferred.
Calibration
The Quantron S-2 terminal guides the operator through the calibration process, and is completed in minutes. Simply enter the seed type, target rate and forward speed. The Quantron S-2 provides the setting for the metering unit and indicates whether the small seed splines are necessary or not. The Quantron S-2 will indicate the maximum and minimum seed rates and forward speed possible with the given metering unit setting. Up to 60 sets of calibration data can be saved for future reference.

During calibration, seed is metered through the calibration door and into the seed collection bag supplied with the machine. The calibration door is opened and closed without using any wrenches and is equipped with a sensor to prevent the operator from beginning seeding without having first closed it.

The quantity of seed collected is weighed and the weight is entered into the Quantron S-2. The system then provides the operator the final calibration setting.
Metering Unit Adjustment
The Quantron S-2 indicates the required metering unit opening according to the speed type, rate and forward speed entered. The metering unit is then adjusted using the handle and the setting is shown on the easy-to-read scale.
SEED METERING
Poly Hopper
A 21-, 34- or 45-cubic foot hopper feeds seed to the electric drive metering unit which uses a speed signal from the tractor to ensure consistent application rate regardless of forward speed variations.
Electric Drive Metering Unit
The electric drive metering unit features a unique dual-spline system meaning there are no components to add or remove when changing between small and large seed types or when switching between rates.
Seed Splines
Small seed splines are used to reduce the volume of the metering unit when working with small seeds at low rates. They are engaged or disengaged without adding or removing any components from the metering unit, and the Quantron S-2 indicates their requirement during the calibration process.
Implement Switch
The implement switch stops and starts the metering unit automatically as the tillage machine is lifted in and out of work.
OPTIONS & ORDERING INFORMATION
Seed Distribution System
Seed is split precisely between outlets using an air drill style divider head to ensure excellent repartition of seed across the width of the machine. Outlet hoses and diffusers may be mounted at the operator's preferred location for the respective machine which the CCX 9000ACC is mounted on.
Seed Diffuser Option
Diffusers may be mounted at the operator's preferred location for the respective machine which the CCX 9000ACC is mounted on. Adjustable mounts are available for mounting to a KUHN Krause 24/7® finishing attachment. Mounting to any other machine will be up to the customer. Diffuser angle is easily adjusted with no wrenches required.
Specifications
| | |
| --- | --- |
| MODEL | CCX 9000-34 ACC |
| Number of Diffusers | Width Kits with 16, 20 or 24 Diffusers Available |
| Max Hopper Width Width (A) (ft/m) | 3' 10" / 1.1 |
| Min Vertical Height Required (B) (not including attachment or options) (ft/m) | 5'3" / 1.4 |
| Total Vertical Height (C) (including attachment, not including options) (ft/m) | 7' 2" / 2.2 |
| Min Length Required (D) (not including attachment or options) (ft/m) | 5'4" / 1.6 |
| Total Length (E) (including attachment, not including options) (ft / m) | 7' 7" / 2.3 |
| Recommended Clearance Below Meter (F) (provided with attachment) (ft / m) | 2' 3" / 0.7 |
| Weight (Empty, without Adaptation) (lb/kg) | 1,355 / 615 |
| Distance between mounting tubes (G) (in / cm) | 3' 9" / 1.1 |
| Dimensions of mounting tubes | 4" x 5" x 81" / 10.1 x 12.7 x 205.7 |
| STANDARD EQUIPMENT |   |
| Hopper Capacity | 27 bushels / 34 cu. ft / 963 liters |
| Metering Unit | Volumetric Metering Unit with Electric Drive |
| Small Seed Splines | Standard |
| Speed Signal | From Tractor (standard) or Using Tractor Wheel Speed Sensor (option) |
| Agitator Shaft | Standard: Engaged/Disengaged without Wrenches |
| Control Terminal | Quantron S-2 with 5.5 Inch Color Screen |
| Units Used | User Defined: Imperial or Metric |
| In-Cab Application Rate Adjustment | Standard: Rate can be Adjusted to +/- 99% of Target Rate on the Fly |
| Automatic Start/Stop | Standard |
| Calibration Assistant | Standard |
| Area Meter | Standard |
| OPTIONAL EQUIPMENT |   |
| Width Kit Options | < 10': 16 diffusers / 125' hose 10' - 15': 16 diffusers / 175' hose 15' - 20': 20 diffusers / 225' hose 20' - 30': 24 diffusers / 400' hose 30' - 35': 24 diffusers / 450' hose < 3.0m: 16 diffusers / 38.1m hose, 3.0m - 4.6m 16 diffusers / 53.3m hose, 4.6' - 6.1m: 20 diffusers / 68.6m hose, 6.1m - 9.1m: 24 diffusers / 121.9m hose, 9.1m - 10.7m: 24 diffusers / 137.2m hose |
| Filling Platform and Access Ladder | Optional |
| 5" dia x 94" Steel Pipe to Space Divider Head Rearwards from Metering Unit | Optional |
| Brackets to Mount Diffusers to KUHN 24/7 Reel Systems | Optional |
Farm & Ranch Supplies
Our hardware department offers a wide selection of STIHL Power Equipment, fencing, irrigation supplies, and quality power and hand tools. We also have a full-service tack shop and western clothing department. So as you can see we are your one-stop-shop for all of your farming, ranching, and residential needs. Plus, we service all of the equipment we sell in our small engine repair shop. Our mechanics hold several certifications including STIHL silver or gold, Honda, Kohler, Briggs and ExMark. 
Want pricing on a specific piece of equipment?
Fill out the form below to request a custom quote!