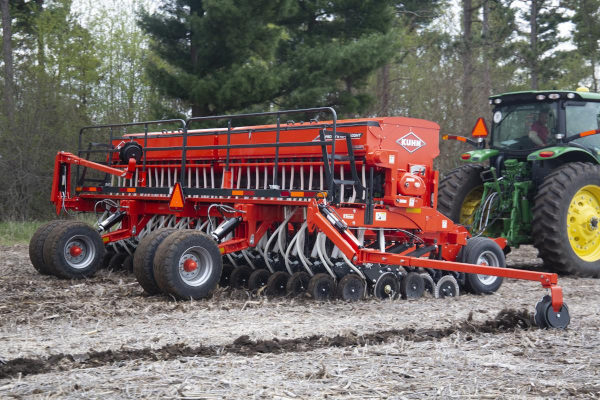 Features
PRECISE DEPTH CONTROL
PRO – Precision Residue Opener
The PRO opener can operate in conventional, minimum-till or no-till applications while enhancing seed depth control and seed placement. An extra pivot point, incorporated into each opener casting, is located just above the seed drop area of the opener. This feature, combined with the front pivot of each opener drawbar, allows the opener to maintain a full range of motion while remaining horizontal to uneven field surfaces. Final seeding depth is determined by splitting the difference between the opener's front mounted depth gauge wheel and the adjustable rear press wheel of each assembly. This gauged movement provides up to 50% more precise seed placement for uniform germination and maximum crop performance.
No-Till Coulter
16" diameter no-till coulters provide reliable soil and residue penetration. The "close-coupled" coulter design allows the opener to better track the path of the no-till coulter when sowing irregular fields or operating on contours. No-till coulters are designed with no daily grease maintenance features, so servicing requires a minimal amount of time, putting you in the field faster.
Adjustable Mechanical Spring Down-Pressure
This "ratchet" style adjustment quickly increases individual opener down-pressure, up to an additional 80 pounds above the standard 310-pound pressure setting. You can choose from four different positions, increasing opener down pressure by 20 pound increments. This feature gives the operator the option of increasing down pressure on individual openers, to maintain seeding depth in extremely hard soil or compacted areas from tractor and/or combine tracks.
ACCURATE SEED PLACEMENT
KUHN Helica Spiral Flute Meter
KUHN's proven Helica meter utilizes a spiral flute design to direct a uniform flow of seed and fertilizer through each meter, eliminating the "dumping" action commonly found in a straight fluted meter roll. A Helica nylon roll is used with single or dual seed hopper options while the stainless roll and meter housing are used with the fertilizer option to prevent corrosion.
Seed Cup Shut-Off
The manual seed meter shut-off allows the operator to vary row spacing for certain crops.
KUHN Variator Setting
The KUHN Variator setting provides infinitely adjustable control of seed shaft speed eliminating the need to move drive chains and sprockets when changing the seeding rate.
Seed Gate Adjustment Link
For accurate seed metering, seed gate settings for either large or small seed sizes are made at the same time with a single point adjustment. This feature also fully opens each meter's seed gate providing an easier clean-out of the main tank.
CUSTOMIZABLE TO FIT YOUR NEEDS
Main Seed Hopper Configurations
With three hopper configurations available (seed only, seed and fertilizer, and seed and seed) plus an optional legume box, the 9400NT is versatile and can be suited to fit your operation's needs.
Press Wheel Options
Four press wheel options are available: 2" x 13" smooth, 2" x 13" single rib, 3" x 13" single rib, and 3" x 13" dual rib. The 2" x 13" smooth transfers the maximum amount of opener down pressure over the seed and seed trench for good seed-to-soil contact. The 2" x 13" and 3" x 13" single rib work in a wide variety of soil conditions. Some soils tend to crust over during spring seeding. The single rib design creates a fracture zone as moist soil begins to dry down, providing a path for easier seed emergence. The 3" x 13" dual rib "pinches" loose soil from each side of the seed trench and moves it toward the center. This action provides easy emergence for more fragile seedlings.
Specifications
| | |
| --- | --- |
| Model | 9400NT 15' - 7.5"/10" spacing |
| Number of Rows | 24/18 |
| Transport Width | 16'1" (4.9 m) |
| Transport Height | 9'1" (2.7 m) |
| Weight | 13,612/12,161 lbs (6,174/5,516 kg) |
| Single Hopper Total Capacity | 56 bushel (1,970 L) |
| No Till Coulter Specs (diameter / No. flutes) | 16" (41 cm) diameter coulters with 34 flutes |
| Openers | PRO Openers with 2 x 15.8" diameter, 3.5 mm blades. Equipped with rotary scrapers as standard |
| Opener down pressure | 310 - 390 lbs (141 - 177 kg) down pressure (measured in middle of 12" (30 cm) travel range) |
| Opener Press Wheels | Options: 3 x 13 Single Rib, 2 x 13 Single Rib, 2 x 13 Smooth, 3 x 13 Double Rib |
| Opener Gauge Wheel Specs | 3x14" peak gauge wheel |
| Front Drive / Gauge Wheels | Drive only tires: Trailer type ST205/75-15 Gauge or drive & gauge tires: 9.5Lx15 |
| Seed Transmission | Variator: infinitely variable drive speed control |
| Seed Metering | HELICA meter with spiral flutes, micrometer adjustment and smooth drop tubes |
| Seed Box Agitator | Standard |
| Rear Main Frame Wheels | Standard 12.5L15, Optional 340x60R16.5 |
| Hitch Type | Cat. 3 Hammer, Cat. 3 Ball, Cat. 4 Ball or 3-point (Cat 3, Cat 4N, Cat 4) |
| Area Meter | Standard - with electronic package |
| Loading Platform | Standard |
| Road Lights and Signaling | Standard |
| Tractor Hydraulic Requirements | 1 SCV |
| Tractor PTO HP Requirement | 120-180 hp (90-134 kW) |
| Working Speed | 4-8 mph (6-13 kph) |
| Electronics | Optional ISOBUS electronic monitoring available with or without in cab display |
| Weigh Scales | Optional electronic weighing system |
| Dual hoppers | Optional dual hopper system for either seed / seed or seed / fertilizer usage. 3.8 - 4.2 bu/ft capacity |
| Hopper Split Ratios | 11 divider wall positions: 0:90, 40:60, 43:57, 45:55, 47:53, 50:50, 53:47, 55:45, 57:43, 60:40, 90:0 |
| Small Seed Box | Optional rear mounted 0.5 bu/ft capacity |
| Dual Side Markers | Optional 14" (36 cm) diameter blade with depth band. Requires 1 additional tractor SCV |
Farm & Ranch Supplies
Our hardware department offers a wide selection of STIHL Power Equipment, fencing, irrigation supplies, and quality power and hand tools. We also have a full-service tack shop and western clothing department. So as you can see we are your one-stop-shop for all of your farming, ranching, and residential needs. Plus, we service all of the equipment we sell in our small engine repair shop. Our mechanics hold several certifications including STIHL silver or gold, Honda, Kohler, Briggs and ExMark. 
Want pricing on a specific piece of equipment?
Fill out the form below to request a custom quote!