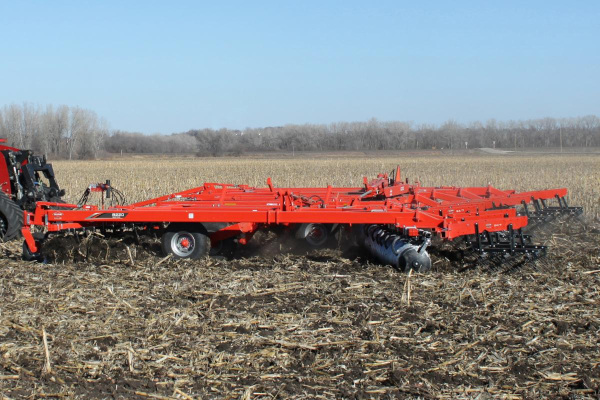 Features
THE STRENGTH IS IN THE GANG
Gang Design
With a choice of 22'' or 24'' diameter, 6 gauge or ¼'' thick Residue Razor™ disc blades on 8'' or 9-1/8'' spacing, the 8220 disc harrow can be configured for optimum performance in a variety of residue and soil conditions. The 20-degree front and 19-degree rear gang angle provide consistent residue cutting and mixing. Heavy-duty 6'' ductile iron spools, rock-flex bearing arms and heavy-duty PEER® TILLXTREME™ maintenance-free bearings offer the strength and endurance that sets the 8220 above the competitors.
Residue Razor™ Disc Blades
All KUHN Krause tandem disc harrows are available with Residue Razor disc blades made from Ingersoll's PURE™ steel optimizing strength to withstand stress, fractures, and to provide flexibility in rock conditions. Residue Razor discs have an exceptionally sharp edge, five times sharper than conventional blades. Rollable Disc Blades are also available which allow blades to be re-sharpened for extended residue cutting and soil penetration performance.
Spools
KUHN Krause heavy-cast spools multiply the strength of the disc gang. Spools are line-bored for an exact fit on the tie rod and precision faced to perfectly match the blade surface. A larger bell on the concave end and a smaller bell on the convex end provide an overlap fit against the blades, supporting the blade more positively without creating a stress line.
Rock-Flex Bearing Arm
Rock-flex bearing arms provide protection from rocky or hard soil conditions. Rock-flex bearing arms feature PEER® TILLXTREME™ maintenance-free bearings. The scraper has adjustability to clean the concave side of each disc blade located at the Rock-Flex bearing arms limiting soil and residue buildup in the bearing hanger area.
Spring Adjust Scrapers
The 5-inch scraper is easily adjusted by simply loosening a single bolt, adjusting for scraper gap if needed and locking in place by tightening the bolt. The scraper spring provides the tension to move the scraper to the specified location against the face of the disc blade.
TRANSPORTABILITY
The Ultimate in Transportability
Quad-Fold™ —The Ultimate in Transportability
The KUHN Krause Quad-Fold™ design features a rigid center section with a folding inner and outer wing. The outer wing hydraulically locks to the inner wing in field use to create a 3-section disc with even weight distribution. Quad-Fold 41- and 44-foot models are a full 5-section design. Quad-Fold is available on 8220 – 36' to 44' models.
Heavy-Duty Walking Beams
Standard on all 8220 disc harrows, heavy-duty walking beams allow for consistent working depth on rough ground and more stable road transport. Walking beams have slip-in spindles and heavy-duty hubs.
WIDE OR NARROW SPACING
Wide or Narrow Spacing
Choose wide or narrow spacing to better match the needs of your operation.
Wide Spacing: Wide, 9 1/8", spacing offers more aggressive residue mixing and leaves a course finish to resist wind erosion and aid in the drying of soil.
Narrow Spacing: Narrow, 8", spacing offers more aggressive residue cutting and leaves a smooth seedbed, ready to plant.
24/7® Leveling Systems
Increase yield potential through better seedbed condition and increase productivity with non-stop farming. KUHN Krause disc harrows can be equipped with the following 24/7® leveling systems:
24/7® 3-Row Coil Tine Harrow: Featuring a parallel link leveling system for superior residue flow and even distribution, the coil tine harrow offers an increase in yield potential and improved residue management even in high residue conditions. With 16" long tines, 7/16" diameter, the 24/7 Coil Tine Harrow ensures smoother residue distribution and better chemical incorporation.
3-Bar Spike Harrow: For excellent clod sizing in low to moderate residue conditions, the 3-bar spike harrow is an efficient way to create a level seedbed. Rugged ¾" x 10" square spikes provide long-lasting leveling.
24/7® Soil Conditioning Reel: For maximum clod sizing, leveling and soil firming the 24/7 soil conditioning reel is your choice. Choose the round, spiral rods for loamy soils or flat, spiral blades for high clay soils. A float setting widens the tillage/weather window when operating in wet soil conditions.
Specifications
MODEL
8220-44WQF
Transport Width (ft/m)
17'17" / 5.4
Transport Height (ft/m)
13'10" / 4.2
Frame Type
5-Section Quad-Fold
Number of Disc Blades
122
Number of Bearing Arms
34
Approximate Working Width (ft/m)
44'3" / 13.5
Approximate Weight (lbs/kg)
30,779 / 13 961
Disc Blade Spacing (in/cm)
9" Front / 9" Rear
Disc Gang Angle
20 Degrees Front, 19 Degrees Rear
STANDARD EQUIPMENT
 
Hitch Type
Articulating Ball CAT IV, 2" Pin
Tongue
Guardian Hitch™ (Cushion Tongue)
Leveling
Hydraulic Fore/Aft Adjustable
Hydraulics
Color-Coded Hydraulic Hose Grips
Depth Control
Single-Point, Crank Style Hydraulic Depth Control
Disc Gangs
1-¾" Round Diameter Alloy Tie Rod, Rock-Flex® Bearing Arms 1-¼" x 2-½", 6" Bell Diameter Ductile Iron Spools, Cast Housing PEER® TILLXTREME™ No Daily Grease Maintenance Bearings, Tie Rod Wrench
Disc Blades
24" x ¼" Residue Razor® Solid Edge
Taper Blades
Front 24" - 22"
Rear 24" - 22" - 20" - 18"
Bolt-on Furrow Filler
Center Section Tires
Four 380/55 R16.5, Walking Beams with Slip-In Spindles, 8-Bolt Heavy Duty Hubs
Wing Frame Tires
Two 280/70 R15 per Wing, Walking Beams with Slip-In Spindles, 6-Bolt Hubs
Wing Gauge Wheels
Two 20.5 x 8 Load Range E
Transport Locks and Safety
Hydraulic Valve Wing-Fold and Transport Locks, High Visibility LED Lighting, SMV Sign
OPTIONAL EQUIPMENT
 
Wing Gauge Wheels
Two 20.5 x 8 (Kevlar)
Wing Gauge Wheels
None
Wing Gauge Wheels
 
Leveling
Mechanical Fore/Aft Adjustable
Disc Blades
24" x 6 ga Residue Razor® Solid Edge
Disc Blades
22" x 6 ga Residue Razor® Solid Edge
Disc Blades
22" x ¼" Residue Razor® Solid Edge
Taper Blades
Front 22" - 20",
Rear 22" - 20" - 18" -16",
Bolt-On Furrow Filler
Rear Hitch
Rear Hitch (Not for Use with Finishing Attachment)
Finishing Attachments
24/7® 3-Row 16" Tine Harrow
Finishing Attachments
3 Bar Spike Harrow
Finishing Attachments
24/7® Soil Conditioning HD Reel with Float Position (Flat Bar or Round Rod)
OPERATING INFORMATION
 
Recommended Operating Speed (mph/km/h)
4 - 6 / 6 -10
Recommended Maximum Working Depth (in/cm)
6" / 15.4
Recommended Tractor Power Range (mph/kw/h)
7 - 9 PTO HP per Foot
Farm & Ranch Supplies
Our hardware department offers a wide selection of STIHL Power Equipment, fencing, irrigation supplies, and quality power and hand tools. We also have a full-service tack shop and western clothing department. So as you can see we are your one-stop-shop for all of your farming, ranching, and residential needs. Plus, we service all of the equipment we sell in our small engine repair shop. Our mechanics hold several certifications including STIHL silver or gold, Honda, Kohler, Briggs and ExMark. 
Want pricing on a specific piece of equipment?
Fill out the form below to request a custom quote!