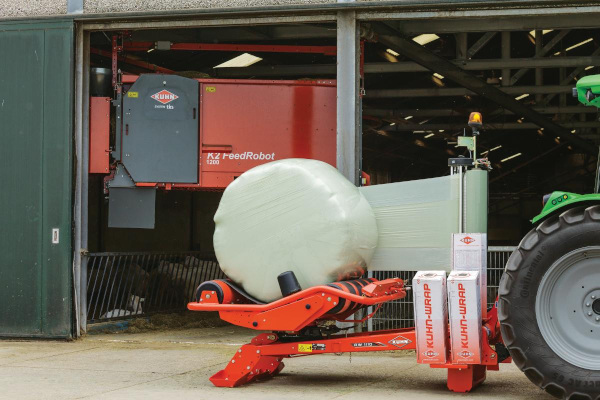 Features
FAST AND RELIABLE WRAPPING
Round Turntable
The KUHN round bale turntable wrappers are equipped with two rollers and four wide-spaced belts. This design provides a deep and stable cradle for the bale on the wrapping turntable. The two large bale support rollers provide more stability and guidance. The four wide-spaced belts provide maximum traction and even rotation for the bale. Even bale rotation is vital to ensure the optimal film overlap for conservation and crop quality during storage.
Patented, Conical Pre-Stretcher
The standard pre-stretchers, which hold a 30" (750 mm) roll, are made of aluminum to avoid build-up of tack from the film. Both outer ends of the aluminum rollers are cone-shaped to maintain the optimum width of the film and reduce the risk of film tear. The special ribbed profile of the aluminum rollers keeps air and water away from the film. The location of the pre-stretchers makes it very easy to change the film rolls. The standard pre-stretch of 70% is reached by a low-maintenance and low-noise gear transmission. An optional 60% pre-stretcher gear kit can be installed to change the standard pre-stretch to 60%, rather than 70%, to adapt to difficult wrapping conditions.
e-Twin Technology
Besides a standard single stretch, KUHN introduces the all-new RW 10 series with patented* e-Twin system for excellent, cost efficient, fast wrapping. The innovative e-Twin technology enables wrapping via a unique combined pre-stretcher design with patented film distribution to save 50% on wrapping time and further film savings. The conical pre-stretch rollers have been positioned in such a way that the two 30" (750 mm) film wraps with 2/3 overlap are glued together providing a double layer before they leave the pre-stretcher unit. Optional on some of the wrappers is the auto film layer correct kit. The correct kit detects an empty or torn film roll and adjusts the required amount of table rotations to cover the bale with the required amount of layers.
Unique Advantages of e-Twin:
Save 50% wrapping time
Further film saving achieved by increased pre stretch ratio
Tighter wrapped bales increases the airtightness and so quality of feed
- Extreme tear resistance under all circumstances
- Available on manual and computer version with joystick
Film Cutters
Once the desired number of film layers have been applied, the film is then held firmly and cut. A spring-loaded or hydraulic high-grip film cutter holds and cuts the film automatically without the need for extra controls. The hydraulic high-grip film cutter, on the RW 1410 & RW 1610, allows you to adjust the cutting moment independent of the table tipping position, resulting in the shortest possible end string. It has a long stroke to help accommodate various bale lengths, and ensures a firm hold and a clean cut of the film in various weather conditions.
GENTLE BALE DISCHARGE
Low-Profile Chassis Design
The KUHN trailed wrappers features a unique low-profile design ideal for stability when loading, wrapping or unloading a bale. The rear axle position results in a low table height eliminating the need for an active fall damper. There is constant weight transfer to the tractor that prevents up-and-down movements of the drawbar and prevents tractor wheel slippage when driving uphill with a bale on the table or loading arm. The bale can be dropped on the go for maximum output!
Low Table Height
The low mounted table, on the mounted RW 1110, ensures a gentle bale discharge so there is no need for a fall damper. The low mounted height also allows easy replacement of the film rolls.
MANUAL OR COMPUTER CONTROL
Control Systems
Two different control systems are available dependent on model, and driver preferences:
The manual version (M) is controlled with cable levers, and comes standard with the bale-and-wrap counter and autostop. The bale-and-wrap counter counts the film layers and total number of wrapped bales. The autostop function will automatically stop the wrapping table/satellite once the total number of film layers have been applied. This transforms a manually controlled wrapper into a semi-automatically controlled wrapper.
The computer-controlled version (C) uses a control box that provides all the information and features for a fully automatic wrapping process. The integrated joystick automatically steers bale discharge, among other direct functions.
The RW 1110 Computer version (C), with standard RF remote control, can be operated from a loader while using a power pack or second tractor for the oil- and power supply. This creates a one-man operation for loading, wrapping and stacking. The C version is standard fitted with automatic stop at the end of film/film tear, integrated bale and wrap counter, play/pause function and 90° loading position.
The computer controlled version (C) on the RW 1410 uses a monitor, with an integrated joystick, that provides all the information and possibilities for automatic operation of the entire wrapping process. Automatic stop at the end of the film/film tear comes standard. The enhanced RW 1610 Computer controlled version (C), with integrated patented AutoLoad function, has increased overall efficiency and loading and wrapping capacity. The RF remote control with high distance safety control is optional.
AutoLoad
The RW 1610 C can carry a second bale in the loading arm during wrapping. The AutoLoad function offers increased overall loading, wrapping capacity and efficiency. The patented AutoLoad function enables the operator to fully concentrate on the driving process, while the wrapping process is automatically started once the bale has been detected on the loading arm. Picking up a second bale with the loading arm, during the wrapping process for transport, is fully automated.
Specifications
SPECIFICATIONS
RW 1110 C
Bale size (width x diameter)
4' x (3-5)' (1.2 m x(0.9-1.5 m))
Maximum bale weight
2,645 lbs (1,200 kg)
Transport width
7'10" (2.4 m)
Transport height
8'6'' (2.6 m)
Hitch
Cat. 2 (quick hitch compatible as standard)
Loading system
External
Ability to carry second bale on loading arm
 
Wrapping table
4 belts + 2 rollers
Bale support roller
2 adjustable rollers
Control
(C) Computer controlled (VT 30)
Semi-automatic operation of (M) version by bale and wrap counter and automatic table stop
 
Automatic stop by end of film / tear
Standard
RF remote control (rechargeable)
Standard
Fully automatic film cutter
Sure grip as standard
Film pre-stretcher
Standard 30" (75 cm) -
optional kit for 20" (52 cm)
Pre-stretch ratio
Approx. 70% standard -
Optional 60%
Required tractor hydraulic connections
1 SA with free return or 1 DA
Output and pressure required
7 gpm at 2,200 psi
Road lights
 
Tires
 
Ability to turn wheels inside for road transport
 
Machine net weight
1,985 lbs (900 kg)
Farm & Ranch Supplies
Our hardware department offers a wide selection of STIHL Power Equipment, fencing, irrigation supplies, and quality power and hand tools. We also have a full-service tack shop and western clothing department. So as you can see we are your one-stop-shop for all of your farming, ranching, and residential needs. Plus, we service all of the equipment we sell in our small engine repair shop. Our mechanics hold several certifications including STIHL silver or gold, Honda, Kohler, Briggs and ExMark. 
Want pricing on a specific piece of equipment?
Fill out the form below to request a custom quote!