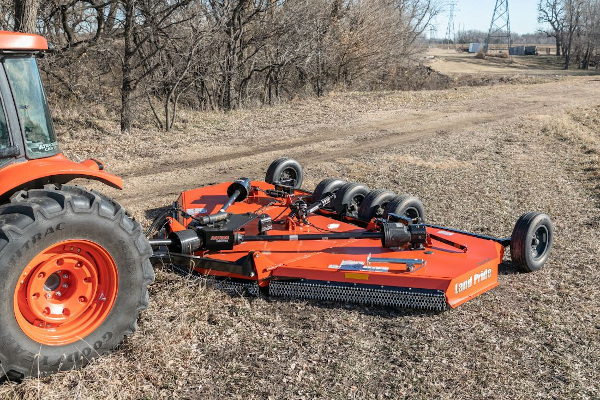 Features
Features
Benefits
Surpassed rugged industry
standards
All Land Pride Cutters have been designed and tested and meet rigorous voluntary
testing procedures.
Factory assembled
Saves customer set-up time and money.
160 HP Divider gearbox
and 75 HP wing gearboxes
A rugged heavy built gearboxes capable of handling heavy cutting applications.
Gearbox Seal Protection
Gearbox bottom seal protection for longer bearing life.
Input driveline: Cat. 4 CV
Driveline is matched just right for capacity of tractor. Constant velocity (CV) U-joint
allows for 80 degree turns without doing damage to the driveline.
Easy greasable drivelines
Drivelines have access holes for greasing the U-joints and to grease the inner profiles.
2 Plate slip-clutch
Protects drivelines and gearboxes by slipping clutches rather than twisting the driveline
when impacts are encountered.
15,000 FPM High blade tip speed
Allows clean cutting of material and even distribution.
6" Blade overlap
Eliminates skipping during turns.
11 1/4" Deck height
Handles heavy cutting, which reduces balling-up of cut material under the deck.
3/16" Gauge Stump jumper backed
with a 1" thick mounting bar
Allows cutter to slide over obstructions protecting gearbox output shaft & bottom seal.
10 Gauge smooth deck top
Reduces accumulation of debris and is easier and faster to clean.
1/4" Plate side skirt
Reduces debris piercing possibilities.
Low hitch weight
Less drawbar wear. Less ballast required. Works well with lighter tractors.
Dual remote hydraulics
Easy to operate. Fits most tractors, only two duplex outlets required to lift wings and
change cutting height separately.
Hinged wing sections
Allows cutter to follow terrain. Ideal for rough ground where hillsides, ditches and
hollows can cause uneven cutting. Wings will hinge 20o down.
7/8" Solid hinge rods
Gives great strength to the cutter from front to rear, and in the hinge area itself.
Wing transport locks
Holds transport wings in the folded-up position in case of hydraulic pressure loss.
Enclosed front to rear dual leveling
rods
Dual leveling rods enable the cutter to pull equally on the rear axle during travel over
rough terrain. Many competitors only use one leveling rod.
5-Bolt hubs
5-Bolt hubs makes the wheel assembly more durable and longer lasting.
Drain holes in wheel rims
Allows water to drain from wheels mounted on folded-up wings.
Helps prevent paint deterioration and rusting to the wheel rims.
Spring-cushioned lift cylinder
Cushions loads on drawbar.
Replaceable wheel spindles
Wheel spindles can be replaced when damaged without replacing the entire axle.
Simply remove two bolts to replace damaged spindle.
7/8" Leveling rods
Large diameter leveling rods provide superior supporting strength over rough terrain.
Airplane tires
Gives better cushion while transporting and provides flotation in soft ground.
Specifications
Specifications & Capacities
RC2515
Tractor horsepower
50-100 hp
Gearbox horsepower 
Splitter
Center & wings

160 hp
100 hp
Gearbox shafts  
input shaft
output shaft

1 3/8" 6 Spline
1 5/8"
Gearbox capacity & lubrication
splitter
center & wings

4.5 Pints of gear lube 80-90W EP 5.75 Lints of gear lube 80-90W EP
Cutting capacity
1 1/2"
Hitch weight
1,022 lbs.
Machine weight
3,202 lbs. with chain guards & four laminated tires.
Blade tip speed at 540 rpm
Center blades & wing blades = 14,963 FPM
Hitch types
Pull-type hitch & clevis
Hitch jack
Standard (2,000 lbs.)
Cutting width
Overall width
Normal transport width
Minimum transport width
15' - 0"
15' - 7"
10' - 2 1/2" With transport locks set and cutting blade 13" off the ground.
8' - 4" With transport locks set and cutting blade 2" off the ground.
Overall length
15' - 2" With laminated tires
15' - 5 1/2" With aircraft tires
Deck height
11 1/4"
Cutting height
2" to 13"
Lift hydraulics
2 1/2" x 8" hydraulic cylinder, hoses, fittings & stroke control spacers
Wing hydraulics
2 1/2" x 10" hydraulic cylinders, hoses & fittings
Wing transport protection
Wing transport locks
Deck material
10 Gauge deck
Side skirt material
1/4" Plate
Skid shoes
Wing Deck: 1 replaceable shoe per wing
Center Deck: 2 replaceable shoes
Blade rotation
left wing
center deck
right wing

Clockwise
Counterclockwise
Counterclockwise
Blades - 6 (2 per deck)
1/2" x 4" Heat treated free swinging alloy steel with up lift
Blade overlap
6"
Blade bolt
Keyed with hardened flat washer & locknut
Stump jumper / blade holder
10 Gauge round dish shaped pan, reinforced
with 1" x 4" blade bar
Front & rear guards
Single chain or rubber
Input driveline
ASAE Category 4 with constant velocity u-joint
Intermediate & wing drivelines
ASAE Category 3 with slip-clutch
Wheels
29" Used aircraft tires or 21" laminated wheels
Number of wheels
4 or 6 Total
Transport axle
Spring-cushioned lift cylinder
Hubs
Cast iron five-bolt hubs with tapered roller bearings and 1 3/4" shafts
Colors
Standard color: Beige; Optional colors: Green, Orange, or Red
Farm & Ranch Supplies
Our hardware department offers a wide selection of STIHL Power Equipment, fencing, irrigation supplies, and quality power and hand tools. We also have a full-service tack shop and western clothing department. So as you can see we are your one-stop-shop for all of your farming, ranching, and residential needs. Plus, we service all of the equipment we sell in our small engine repair shop. Our mechanics hold several certifications including STIHL silver or gold, Honda, Kohler, Briggs and ExMark. 
Want pricing on a specific piece of equipment?
Fill out the form below to request a custom quote!