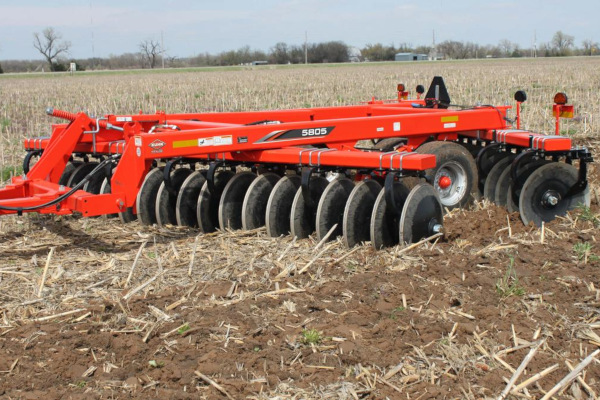 Features
THE STRENGTH IS IN THE GANG
Gang Design
5805 offset disc harrow gangs feature 26" or 28" diameter blades mounted on Rock-Flex or rigid bearing arms and feature PEER® TILLXTREME™ maintenance-free bearings. Gang angles are pin-stop adjustable from 16 to 24 degrees. A ratchet-jack, located on the rear gang, allows side-to-side gang adjustment to fine-tune performance. Front and rear gangs feature tapered blades to provide a level pass-to-pass finish. Bolt-on extension spool and furrow filler blades are standard equipment on 5805 discs, so inadvertently hitting an obstacle doesn't damage the entire gang.
Residue Razor™ Disc Blades
All KUHN Krause tandem disc harrows feature Residue Razor disc blades that are engineered with a unique Boron steel optimizing strength to withstand stress, fractures, and to provide flexibility in rock conditions. Residue Razor discs have an exceptionally sharp edge, five times sharper than conventional blades.
Spools
KUHN Krause heavy-cast spools multiply the strength of the disc gang. Spools are line-bored for an exact fit on the tie rod and precision faced to perfectly match the blade surface. A larger bell on the concave end and a smaller bell on the convex end provide an overlap fit against the blades, supporting the blade more positively without creating a stress line.
Rugged Scrapers
The 6 ½", paddle-type, flat-blade scrapers are mounted individually on a scraper bar. The scrapers and bar may be adjusted for varying soil conditions.
HEAVY-DUTY FRAME
Frame Design
Top of Form: Massive main frame beams are 6' x 8' x 3/8" structural steel with gang beams of 4" x 10" material, providing ultimate strength and rigidity.
Bottom of Form: The massive tongue features a handy "wrenchless" adjustment with seven different settings, making it easy for the operator to set the 5805 for the correct draft. The rocker shaft design utilizes hydraulic cylinders that act directly on each wheel arm, reducing frame stress and torsion.
GREATER LOAD CAPACITY
Metric Tires
280/70R15 metric tires have been incorporated into the 5805 for additional weight carrying capacity at lower operating pressures.
Specifications
Model
5805-14
Transport Width (ft/m)
15'1" / 4.6
Frame Type
Rigid
Number of Disc Blades
35
Number of Bearing Arms
9
Approximate Working Width (ft/m)
13'10" / 4.2
Approximate Weight (lbs/kg)
8,242 / 3 739
Disc Blade Spacing (in/cm)
10" Front / 10" Rear
Disc Gang Angle
Adjustable Gang Angle 16 to 25 Degrees
STANDARD EQUIPMENT
 
Hitch Type
CAT III Articulating Ball 1-1/2" Pin
Tongue
Adjustable, 6 position tongue
Hydraulics
Royal Plate Plus® Cylinder Rods, Color Coded Hose Grips, Male ISO Couplers on Hydraulic Hoses
Depth Control
Crank-Style Single Point Hydraulic Depth Control, Two 4" x 10" Cylinders
Disc Gangs
1-3/4" Round Diameter Alloy Tie Rod, Ductile Iron Spools, Rigid Bearing Arms, PEER® TILLXTREME™ Maintenance Free Bearings
Disc Blades
26" x 1/4" Residue Razor™ Solid Edge Front and Rear
Taper Blades
Front 26" - 24", Rear 26" - 24" - 22" - 20" Bolt-On Furrow Filler
Disc Scrapers
Heavy-Duty Adjustable 6-1/2" Scrapers
Center Section Tires
Four 280/70R15 Tires, Duals, 6-Bolt Heavy Duty Hubs
Transport Locks and Safety
Tongue Jack, Slow Moving Vehicle Sign, High Visibility LED Transport Light Kit, Safety Chain
OPTIONAL EQUIPMENT
 
Hitch Type
CAT III Cast Combination C-Clevis 1-1/4" Pin
Disc Blades
26" x 1/4" Notched Edge Front and Rear
Disc Blades
26" x 1/4" Notched Edge Front 26" x 1/4" Residue Razor™ Solid Edge Rear
Disc Blades
28" x 5/16" Residue Razor™ Solid Edge
Disc Blades
28" x 5/16" Notched Edge Front and Rear
Disc Blades
28" x 5/16" Notched Sharp Edge Front
28" x 5/16" Residue Razor Solid Edge Rear
Taper Blades
Front 26" - 24", Rear 26" - 24" - 22" - 20" Bolt-On Furrow Filler
Taper Blades
Front 28" - 26", Rear 28" - 26" - 24" - 22" Bolt-On Furrow Filler
Bearing Guards
Rigid Arms Only (9)
Bearing Guards
Rigid Arms Only (11)
OPERATING INFORMATION
 
Recommended Operating Speed (mph/km/h)
4 - 6 / 6 - 12
Recommended Maximum Working Depth (in/cm)
5" - 10" / 12.7 - 25.4 cm
Recommended Tractor Power Range (mph/kw/h)
8 - 12 PTO HP Per Foot / 6 - 9 kW
Farm & Ranch Supplies
Our hardware department offers a wide selection of STIHL Power Equipment, fencing, irrigation supplies, and quality power and hand tools. We also have a full-service tack shop and western clothing department. So as you can see we are your one-stop-shop for all of your farming, ranching, and residential needs. Plus, we service all of the equipment we sell in our small engine repair shop. Our mechanics hold several certifications including STIHL silver or gold, Honda, Kohler, Briggs and ExMark. 
Want pricing on a specific piece of equipment?
Fill out the form below to request a custom quote!