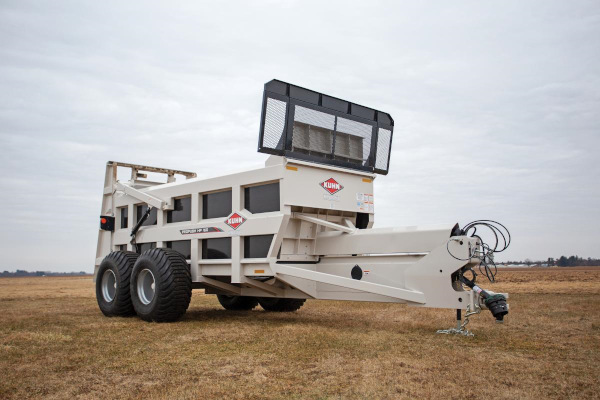 Features
DURABLE CONSTRUCTION
Durable Construction for Long Life
All-Steel Welded Construction
The all-steel welded ProPush® construction provides a solid framework and includes a reinforced tongue that pulls directly from the full-width axle. This results in a stronger, more dependable spreader since the unit is pulled from the axle rather than the front of the box.
Solid Weld-In Tongue
A solid weld-in tongue provides structure and is an anchor for the pusher cylinder. The tongue is cross-braced for strength and rigidity. Design enhancements allows for more clearance between the tractor quick hitch and implement, improving maneuverability.
Integrated Welded I-Beam Construction
An integrated welded I-beam construction ties the box together while providing a strong backbone for the pusher panel as it travels back and forth.
Heavy-Duty Tandem Axle
A rugged, tandem axle allows the unit to travel across a wide range of terrain with ease. A 10-bolt bogie system utilizes a simpler design with fewer moving parts compared to a sprung undercarriage, which reduces maintenance requirements and increases dependability. Improved axle pod design features a one-piece axle tube to handle additional weight. Two tire choices are available for the HP 160, truck and high-flotation tires.
FAST, EFFICIENT UNLOADING
ProPush® Design
The ProPush box spreaders are designed with simplicity in mind. The hydraulic push-type design means no apron chains, fewer moving parts, faster unloading and dependable service life.
Piggyback Hydraulic Cylinders
This unique cylinder design provides smooth and uniform travel through the entire stroke and rapid cylinder retraction spreading is completed. The cylinders are completely protected by a structural tube member. This stops manure from falling directly onto the cylinder which helps prevent premature seal failure.
Improved Pusher Design
The redesigned pusher on the HP 160 features a bird beak design that allows for better clean-out of the load. This also allows the mounting point of the cylinders to be moved forward, resulting in better clearance between the tractor and implement as well as the ability to add a CV PTO option.
Friction-Resistant Poly-laminate Floor & Sides
A two-piece, ⅝" solid poly-laminate floor and single piece, 5/8" poly-laminate sides provides more strength and durability than individual tongue and groove boards while reducing friction. This means less power is required for unloading versus steel or wooden floors and sides. The poly-laminate floor provides impact resistance when dropping heavy loads into the spreader. The plastic floor and sides also reduces winter freeze-down issues.
HEAVY-DUTY VERTICAL BEATERS
Wide, Consistent Spread Pattern
VertiSpread® vertical beaters provide a wide spread pattern in an array of materials. These beaters are designed to spread material in a 25-30 feet pattern at rates ranging from 5-30 tons per acre. VertiSpread vertical beaters are designed particularly for operations that spread a wide variety of solid materials such as penpack or material heavy with dirt.
The beater module can easily be removed for storage while stockpiling, providing you with greater machine versatility.
Heavy-Duty Beater Module
The HP 160 comes with a heavy-duty vertical beater module, featuring 5/8" (1.6 cm) flighting and hardened beater tips. Power to the beaters is routed through a fully enclosed Berma gearbox, providing a strong and reliable power supply with low maintenance requirements.
Beater Drive - PTO Options
Power from the tractor to the unit is transferred through a center-mounted drive-line that operates at 1,000 RPM PTO and either 1 3/8" or 1 3/4" to easily adapt to the customer's tractor. This is accompanied by an option of CV or Non-CV PTO. The CV PTO option is designed for operators that spread at low rates or operators who wish to continue spreading into headland turns.
Specifications
| | |
| --- | --- |
| Model | HP 160 TRAILER Vertical |
| Struck Level | 450 ft³ (12.7 m³) |
| Heaped | 600 ft³ (17 m³) |
| Maximum Net Load | 39,000 lbs (17,690 kg) |
| DIMENSIONS |   |
| Overall Length | 358'' (909 cm) |
| Inside Box Length | 198'' (503 cm) |
| Inside Box Depth | 60'' (152 cm) |
| Inside Box Width | 71'' (180 cm) |
| Overall Height - Top of Beaters | 127'' (323 cm) |
| Overall Height - Top of Thrown Object Shield | 132'' (355 cm) |
| Overall Height - Top of Pusher Extension | 121'' (308 cm) |
| Loading Height | 97'' (246 cm) |
| Overall Tread Width | 125'' (318 cm) |
| Ground Clearance | 21'' (53 cm) |
| Unit Weight | 14,160 lbs (6,425 kg) |
| Minimum PTO Power Requirement | 180 hp (134 kW) |
| BEATERS |   |
| Standard Number of Beaters | 2 |
| Number of Paddles or Teeth | 32 Teeth |
| Beater Diameter | 35.6'' (90.4 cm) |
| Lower Beater Diameter | - |
| Paddle or Flighting Thickness | 0.6" (1.6 cm) |
| Overload Protection | Torque-Disconnect |
| Removable Beater Assembly | Standard |
| Beater Drive | PTO |
| PTO Drive Speed | 1,000 rpm |
| PUSHER |   |
| Cylinder Diameter | 4.5'' (11.4 cm) |
| Pusher Unload Rate @ 15 gpm (seconds) | 55 |
| Pusher and Cylinder Guides | Nylatron |
| Push Panel Thickness | 10 GA |
| BOX AND UNDERCARRIAGE CONSTRUCTION |   |
| Front Panel and Sides | 0.6" (1.6 cm) Polylaminate |
| Floor | 0.6" (1.6 cm) Polylaminate |
| Endgate | Fixed |
| Trailer Axle | Tandem |
| Spindle Diameter | 3.75'' (9.5 cm) |
| Hubs | 10-Bolt |
| Diaper Pan | - |
| Brakes | Optional Hydraulic Disc |
Farm & Ranch Supplies
Our hardware department offers a wide selection of STIHL Power Equipment, fencing, irrigation supplies, and quality power and hand tools. We also have a full-service tack shop and western clothing department. So as you can see we are your one-stop-shop for all of your farming, ranching, and residential needs. Plus, we service all of the equipment we sell in our small engine repair shop. Our mechanics hold several certifications including STIHL silver or gold, Honda, Kohler, Briggs and ExMark. 
Want pricing on a specific piece of equipment?
Fill out the form below to request a custom quote!