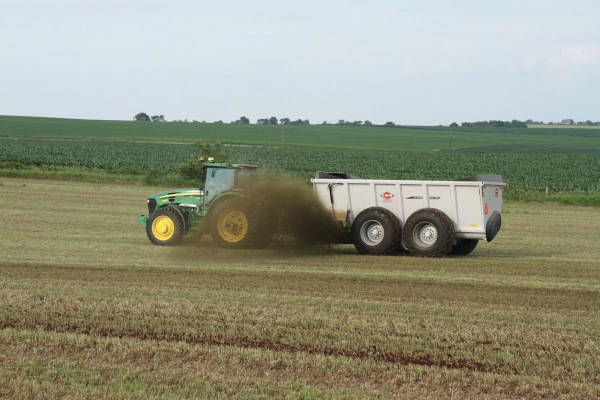 Features
THE FIRST OF ITS KIND
The First of Its Kind, ProTwin® Design
ProTwin® Design
The raised, right auger moves material rearward to keep the load level. The left, lower auger moves material forward to continuously feed the discharge door.
Consistent Flow to the Discharge: The steep, slanted sides help provide a reliable material flow, continuously feeding material down to the augers. Combined with the unique auger design, this helps ensure constant delivery of material to the swinging hammer discharge.
Eliminates Bridging: The well-proven, twin-auger design eliminates material bridging. The two augers work together to create a bidirectional flow that provides constant agitation and steady movement, even with the most challenging materials.
Multi-Purpose Spreader
The continuously welded V-body tank will hold both wet and dry materials. From soupy manure, to semi-solids, separated solids, compost, bedding pack, mulch and many other materials, the ProTwin® Slinger® can fit the needs of your operation.
Rugged Undercarriage
The heavy-duty undercarriage is built for dependable service under heavy use in the toughest conditions, including hauling sand-laden manure. All SLC models come standard with tandem axles.
FAST UNLOADING
Fast Unloading with Consistent Spread Pattern
Enhanced Hammer Design
A new hammer design features more wear surface on the bottom edge to extend hammer life. The new fully adjustable shroud helps decrease wear, extending life even further. Nylon bushings and washers help prevent premature wear to the bolts, hammers and hammer shaft ears.
Wide, 18-Hammer Discharge
All SLC 100 Series commercial models feature a wide, 18-hammer discharge for fast, efficient unloading of all material types. The increased discharge of the SLC 125 and 132 offers a 20% increase in unloading capacity compared to a 15-hammer discharge. The wide, aggressive hammers effectively shear material and provide a consistent, even spread pattern.
Adjustable Shroud and Sill
The two-piece shroud and sill design provides full adjustment for optimal setting of the clearance between the shroud/sill and hammers. Maintaining the proper clearance enhances the shearing performance of the hammers to provide a more consistent material flow and more even spreading. The sill on the SLC is also easily replaceable, making maintenance simple.
Independent adjustment of the shroud (front) and sill (rear) allows you to maintain the proper clearance around the full internal radius. This helps ensure that material is more effectively carried on the faces of the hammers for decreased wear and a lower horsepower requirement.
Adjustable Deflector
The hydraulically adjustable deflector provides the ability to conveniently regulate the spread pattern from the tractor seat while spreading. This allows close control of the spreading width for accurate nutrient placement. The deflector stores in the down position and although it is not water tight, it completely closes off the discharge area to help prevent material loss during transport.
HEAVY-DUTY
Heavy-Duty, Low-Maintenance Drive
Durable, Heavy-Duty Drive
The durable, heavy-duty drive requires minimal maintenance and provides years of reliable service. All rear chains and sprockets have been eliminated. The entire drive is now enclosed in the front oil bath which provides constant lubrication of the chains, bearings and sprockets.
Independent Auger Protection
The drive of the SLC 100 Series manure spreaders incorporates individual shear protection for each auger. The shear bolts are conveniently located in the oil bath enclosure for easy access. They provide effective protection for the chains, sprockets, bearings and shafts against damage due to overload, wedging and obstructions.
Fully Welded Sprockets and Shafts
The three main drive shafts are fully welded and removable. This allows for easier service with no keys and set screws to hassle with during maintenance.
Overrunning Clutch on Hammer Shaft
The overrunning clutch on the hammer shaft allows it to rotate freely when the PTO is disengaged. This reduces backlash on the PTO and on the spreader drive components for less wear and longer life.
Added Shear Protection
Both augers feature upgraded shearbolt protection on the transfer paddles. Transfer paddles on the right auger deliver material to the left auger. The paddles on the left auger deliver material to the discharge. The paddles are also split for easy removal and replacement if necessary.
Specifications
| | |
| --- | --- |
| CAPACITY | SLC 150 TRAILER |
| Struck Level | 5,000 gal (18,927 L) |
| Struck Level | 670 ft³ (19 m³) |
| Heaped | 965 ft³ (27.3 m³) |
| Maximum Net Load | 50,000 lbs (22,680 kg) |
| DIMENSIONS |   |
| Overall Length | 337" (856 cm) |
| Inside Hopper Length | 240" (610 cm) |
| Top Inside Hopper Width | 96" (244 cm) |
| Overall Height - Top of Splash Guards | 113" (287 cm) |
| Overall Height - Top of Lid | 137" (348 cm) |
| Loading Height | 103" (262 cm) |
| Overall Width | 139" (353 cm) |
| Tread Width | 139" (353 cm) |
| Unit Weight | 20,500 lbs (9,300 kg) |
| Minimum PTO Power Requirement | 225 hp (168 kW)  |
| AUGERS |   |
| Auger Diameter - Upper/Lower | 24" (61 cm) |
| Flighting Thickness | 3/8" (1 cm) sectional |
| Tube Diameter - Upper/Lower | 8.6" (22 cm) |
| Drive Shaft Diameter - Upper/Lower | 3.5" (8.9 cm) |
| Shear Paddles | Standard |
| DRIVE |   |
| PTO Drive Speed | CV - 1,000 |
| PTO Protection | Torque-Disconnect |
| Enclosed Front Oil Bath | Standard |
| DISCHARGE |   |
| Expeller Speed | 694 |
| Expeller Shaft Diameter | 3" (7.6 cm) |
| Expeller Swing Diameter | 24" (61 cm) |
| Number of Hammers | 18 |
| BOX AND UNDERCARRIAGE CONSTRUCTION |   |
| Hopper Bottom | 0.25" (0.6 cm) |
| Front Panel | 1/4" (0.6 cm) |
| Rear and Side Panels | 7 GA |
| Door Opening Size | 22" x 47" (56 cm x 119 cm) |
| Trailer Axle | Tandem Bogie |
| Spindle Diameter | 5" (12.7 cm) |
| Hubs | XHD 10-Bolt |
Farm & Ranch Supplies
Our hardware department offers a wide selection of STIHL Power Equipment, fencing, irrigation supplies, and quality power and hand tools. We also have a full-service tack shop and western clothing department. So as you can see we are your one-stop-shop for all of your farming, ranching, and residential needs. Plus, we service all of the equipment we sell in our small engine repair shop. Our mechanics hold several certifications including STIHL silver or gold, Honda, Kohler, Briggs and ExMark. 
Want pricing on a specific piece of equipment?
Fill out the form below to request a custom quote!