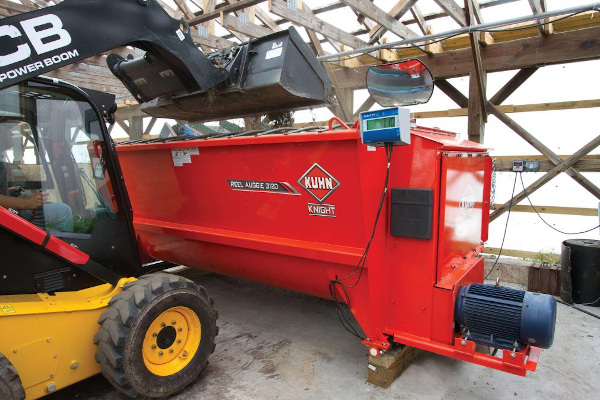 Features
THE REEL ADVANTAGE
Gentle, Thorough Mixing
The Reel Auggie® mixer blends by gently lifting and tumbling all feed ingredients. This produces a fluffy, more palatable ration that promotes increased consumption and better herd health.
The gentle tumbling action of the large-diameter reel works together with the two side blending augers to produce end-to-end and side-to-side mixing action. The reel design eliminates much of the force and pressure inherent to most other mixer designs. This results in lower horsepower requirements, reduced machine wear and less feed breakdown.
Consistent Mixing and Discharge
KUHN Knight reel mixers provide a consistent mix, even with small batches, for a balanced ration from beginning to end. Their quick, even discharge with a more complete cleanout helps save time and maximizes efficiency.
Simple Feeding
With a high discharge point, these mixers allow for the use of a simple slide tray in most feeding situations. The long tray makes it easy to feed deeper into most bunks while preventing feed loss from the wind. This dependable, low-cost option also results in less maintenance.
BUILT TO LAST
Sturdy Box Construction
Sturdy end panels, combined with heavy-duty reel and auger hoppers, lengthen machine life. The upper and lower shear angles strengthen the mixer box, improve end-to-end mixing and increase hay processing efficiency. The large door opening allows for fast discharge.
Heavy-Duty Undercarriage
The rectangular tube frame construction, with steel bumper, provides strength, reliability and added unit protection. Large-diameter spindles provide optimum strength and durability. The adjustable and reversible clevis hitch adapts to different drawbar heights.
Dependable Drive
The dependable, heavy-duty roller chain drive runs in oil and has spring-loaded, self-aligning poly tighteners for long life. Final drive shafts and sprockets are splined for strength and serviceability.
Auger & Reel Bearings
Self-aligning bearings are mounted on the outside of the mixer chamber for easy service and extra life. Polyethylene seals help prevent bearing contamination.
Nylon reel bearings, with polyethylene seals, provide simplicity, long-life and help prevent oil bath contamination.
TAILOR YOUR MACHINE
Multiple Discharge Options
To best suit your feeding needs, you can choose from a slide tray, chain and slat conveyor, or a 3-auger discharge to be equipped on your 3100 Series mixer.
Slide Tray
The high discharge point of the Reel mixers allows use of the simple, dependable, low-cost slide tray in most applications. It has simple hydraulic controls and the long discharge tray reaches deeper into bunks to prevent feed loss from the wind. Magnets are standard on slide tray.
Chain and Slat Conveyor
Rugged chain and slat conveyor options provide the ultimate in durability and long life. Heavy-duty components ensure reliable service and multiple conveyor length options offer unmatched flexibility to match different feeding situations.
3-Auger Discharge
The 3-auger discharge allows adjustment for feeding into higher bunks. It has a simple, hydraulic drive that provides smooth, even discharge. Long lasting, poly chute liners help prevent rust and limit wear. The 3-auger discharge comes standard with fixed tip-off and built-in magnets.
Trailer, Truck & Stationary Models
To suit your operation's needs, KUHN Knight 3100 Series mixers are available in trailer or truck-mounted or configurations.
Trailer models are the most popular configuration as they are the most economical and versatile. Being detachable allows the tractor to be used elsewhere on the farm when not in use for feeding.
Truck-mounted models are a suitable option for those that have to feed cows at several different locations, with large travel distances. This option allows a feeder to quickly get from the mixing location to the feed bunk and back again.
Whether mixing wood chips or a ration for your livestock, KUHN Knight 3100 stationary mixers are ideal for maximizing feeding efficiency and mixer throughput on any operation. Stationary mixers are perfect for producers with centralized feed storage and multiple mixers running throughout the day. By incorporating centralized mixing, one loader operator is often able to keep multiple mixers constantly running, greatly increasing mixing capacity and reducing labor. Also, with the addition of delivery boxes, the mixers do not experience the downtime from driving location to location, and in turn do not receive the additional stress which can be seen from constant travel.
Specifications
| | |
| --- | --- |
| Model | 3115 Stationary |
| Capacity | 147 ft³ (4.2 m³) |
| Maximum Net load | 4,410 lbs (2,000 kg) |
| MIXER DIMENSIONS |   |
| Overall Height | 64" (163 cm) |
| Mixing Chamber Length | 84" (213 cm) |
| Overall Width - Mixer Only (No Discharge) | 88" (224 cm) |
| MIXING SPECIFICATIONS |   |
| Reel Speed | 4.5 rpm |
| Lower Auger Flighting Diameter | 16" (41 cm) |
| Lower Auger Flighting Thickness - Sectional | 3/8" (1 cm) |
| Lower Auger Tube - Outside Diameter | 4" (10.2 cm) |
| Lower Auger Drive Shaft Diameter | 2" (5.1 cm) |
| Upper Auger Flighting Diameter | 14" (36 cm) |
| Upper Auger Flighting Thickness | 3/8" (1 cm) |
| Upper Auger Tube - Outside Diameter | 4" (10.2 cm) |
| Upper Auger Drive Shaft Diameter | 2" (5.1 cm) |
| Reel Diameter | 52" (132 cm) |
| Reel Driveshaft Diameter | 3" (8 cm) |
| Replaceable Sickle Knives on Upper Auger | Standard |
| Self-Sharpening Knives in Lower Auger Knotches | Standard |
| Roller Chain Drive | 50-60-80 |
| TUB & TRAILER CONSTRUCTION |   |
| Unit Weight | 2850 lbs (1,293 kg.) |
| Weighing System | 4-point |
| Door Opening Size | 20"x16" (51x41 cm) |
| Sidewall Thickness | 9/64" (0.3 cm) |
| Sidewall Thickness - Auger / Reel |   |
| End Panel Thickness - Front and Rear | 9/64" (0.3 cm) |
| Reel Hopper Thickness | 7 GA (0.5 cm) |
| Auger Hopper Thickness | 1/4" (0.6 cm) |
| Oil Bath Location | Front |
| STATIONARY SPECIFICATIONS |   |
| Overall Length - With Motor Mount | 120" (305 cm) |
| Length Reduction - Less Motor Mount | 12" (31 cm) |
| Motor Mount to Center of Discharge Door | 50" (127 cm) |
| Overall Height - with Rails and Scales | 64" (163 cm) |
| Discharge Height - With Rails and Scales | 16 1/2" (42 cm) |
| Height Reduction - Less Rails and Scales | 7" (18 cm) |
| Electric Motor Horsepower | 7.5-10 Hp (5.6-7.5 kW) |
| Discharge Door Control | Manual |
| Door Flow Control Plates | Standard |
| Top Guard | Standard |
Farm & Ranch Supplies
Our hardware department offers a wide selection of STIHL Power Equipment, fencing, irrigation supplies, and quality power and hand tools. We also have a full-service tack shop and western clothing department. So as you can see we are your one-stop-shop for all of your farming, ranching, and residential needs. Plus, we service all of the equipment we sell in our small engine repair shop. Our mechanics hold several certifications including STIHL silver or gold, Honda, Kohler, Briggs and ExMark. 
Want pricing on a specific piece of equipment?
Fill out the form below to request a custom quote!